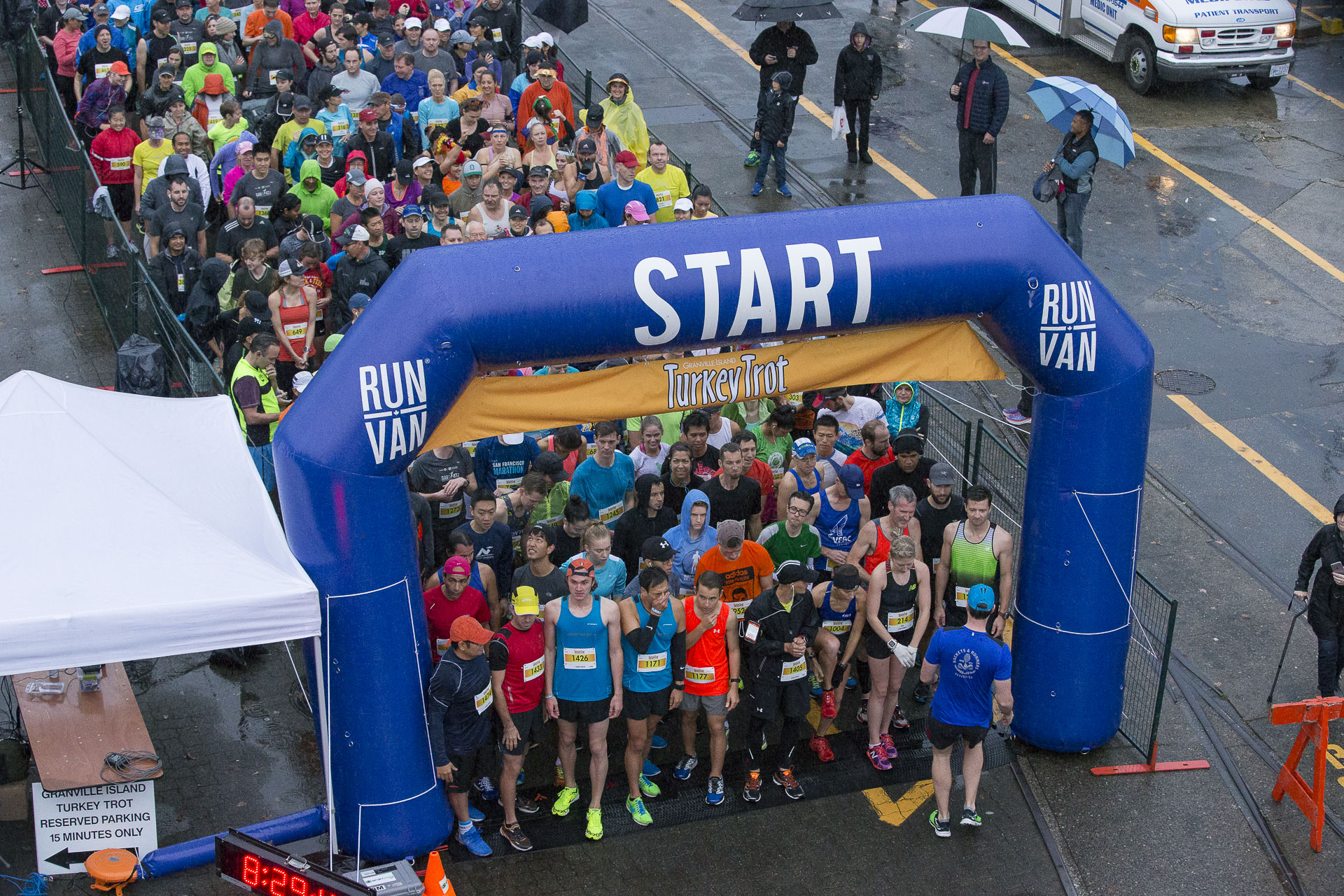 2015 Granville Island Turkey Trot runners, walkers and strollers raised thousands of dollars and 730 pounds of food for charity
Vancouver, BC – October 12th, 2015
Nearly 1,700 people ran, walked or strolled in the 18th annual Granville Island Turkey Trot to celebrate Thanksgiving and also helped to raise funds and awareness for the Greater Vancouver Food Bank and Arts Umbrella. The event featured a new Kids Run and Preschoolers Dash on October 11th that saw nearly 200 energetic children take part, plus a fun 10KM on October 12th with many enthusiastic runners and great costumes.
"Participants in the Granville Island Turkey Trot exemplified the community's commitment to others in the season of giving thanks," says Charlene Krepiakevich, Executive Director of the non-profit Vancouver International Marathon Society, organizers of the event. "We are so proud of all the people involved including the runners, volunteers, and cheerers. Congratulations and thank you for an amazing experience."
David Morrissey of Vancouver, BC, finished the 10KM first overall with a blazing finish time of 34:26. Past champions of the BMO Vancouver Marathon, Ellie Greenwood and Kim Doerksen took first and second place in the women's division with respective times of 35:43 and 36:07.
"It was great to see lots of people in a fun atmosphere," says Greenwood, who as champion of the Comrades (89KM) Marathon and three-time North American Female Ultrarunner of the Year, jokes this is her first 10KM race in five years.
A roar from the crowd during the award ceremony was also heard when they announced Dieter Kirste as winner of the 80–89 age category. Kirste ran the 10KM in an inspiring time of 1:17:55. "I never took running seriously but I love the fresh air," says Kirste. "The world is such a nice place, if you have the chance to run, cycle and look left and right, you'll be able to see the world."
The event saw many runners dressed up with turkey outfits and hats in the spirit of Thanksgiving. Other great costumes included giant raisins, Disney characters, Raggedy Anns, jesters, clowns, a superman, and many other runners wearing crazy hats.
All runners receive a free Stanley Park Beer at Mahony & Sons, a free $20 gift card from Rackets & Runners valid on New Balance Canada product – which when redeemed leads to another pound of food donated to the Greater Vancouver Food Bank, a $200 e-coupon for BikeHike Adventures, free yoga at Ocean Breath Yoga and Teacher Training School, a chance to win free flights from Japan Airlines, drinks, food, live music and more!
Moreover, the Granville Island Turkey Trot showcased the local running community's dedication to helping others in need. Along with 500 pounds of non-perishable food left by runners, Rackets & Runners and New Balance have donated 230 pounds of food to the Greater Vancouver Foodbank and they will continue to donate a pound of food for each free gift card redeemed at Rackets & Runners until November 30.
Over $3,000 dollars was also raised to support the Greater Vancouver Food Bank and Arts Umbrella, a non-profit arts training centre on Granville Island which helps students ages 2-19 cultivate creativity through performing and visual arts.
"We would like to thank all our great partners for helping us stage this wonderful community event," concludes Krepiakevich, whose team now moves on to organizing the Fall Classic on November 15th and the 45th anniversary of Vancouver's only marathon on May 1, 2016.
Those who run all three Vancouver International Marathon Society events in the same calendar year will score the new RUNVAN® hat-trick. The third and final event is the Fall Classic Run at UBC on November 15, considered Vancouver's last great run of the year.
For more information and photos, please find us on social media @TurkeyTrotRun and @runvancanada with hashtag #runvan, or visit our websites at TurkeyTrotRun.ca and RunVan.org.